Domain Authority Stacking
High-Quality Authority Stack of 12+ Google Properties!
Domain Authority Stacking?
A Google Authority Stack is also known as Domain Authority Stacking, Google Marketing Stack, Technology Stack, Google Entity Stack, Google Property Stack, Google Drive Stack, Local Authority Stack, Google Site Stack, Google Asset Stack, or Google Cloud Stack, depending on the elements and entities used.
What Is Google Authority Stacking?
Using Google Drive Stacks for SEO purposes leverages the strength of the Google domain and confidence in order to advertise the website both in terms of improved rankings and additional ranking assets in the search results.
Google Drive is a free and charged service provided by Google to assist individuals and companies with items such as Documents, Slides, Forms, and more. After that, all of the notes are saved in the user's Google Drive. Users will then post each or more of the contents of a Google Drive publicly (or privately), and most of all, they can be indexed and ranked in Google search.
See the Image Below of Google Properties.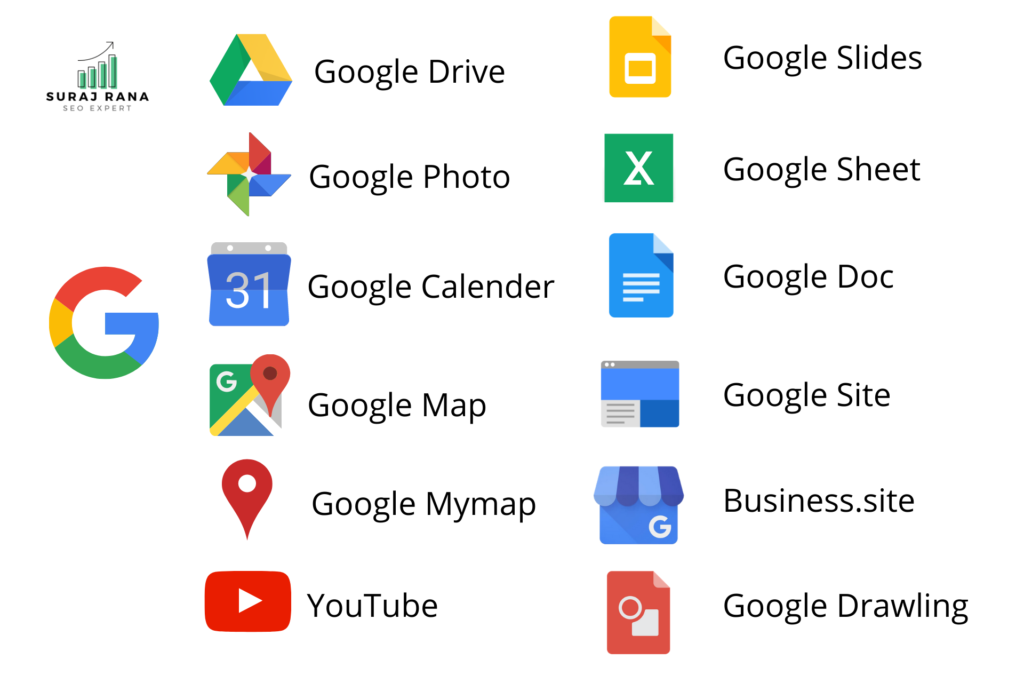 Is Domain Authority Stacking Is A White Hat?
You might consider Domain Authority stacking to be a black hat strategic approach because it creates backlinks very fast and uses Google channels to borrow juice. You're about right, based on these two points. But it totally safe according to me, I'm doing google stacking for years and I don't see any penalty on any of my projects.
Anything else which creates backlinks quickly and borrows juice from irrelevant websites can be regarded as a strategy of black hat. And for the assets of Google. Why does that happen?
Since Google favors and will not actually punish the use of its sites for backlinks.
Domain Authority Stack Creating Services
Google Authority Stacking is one of the most important aspects of Search Engine Optimization and is extremely useful for business owners who are looking to grow their online presence and are looking to improve their local search ranking. Google Authority Stacking is a paid SEO service that can help you achieve top rankings in Google for your business or website. It is a google stack of various methods and techniques which can help you rank in Google. We are offering Domain Authority Stack creation service to you, It can help you increase your business visibility, increase the traffic to your website and increase sales and profit.
Benefits of Using Domain Authority Stacking
High Authority Backlinks
Ranking Increase
Traffic Increase
Brand Awareness
Trust Flow
Link Juice
Some Awesome Features of Domain Authority Stacks Service:
Tier 1 profiles are entirely handmade. An average campaign takes 5-6 hours, so you can imagine the minute tasks required. All images were geotagged before being used with NAP information. Otherwise, no money site penalty is guaranteed.
We use both short and long URLs to link to your Google Maps listing. We increase the relevance and strength of your company's NAP by employing it as an anchor test pointing to your map.
For the Google network, we will additionally use Google Map CID and Google Map Direction, Google Map Embed.
From an SEO standpoint, employing Google Drive Stacks harnesses the strength of the Google domain and trust to promote your website through higher ranks as well as extra ranking properties in search results.
Every Google property is included in your order, and we fully utilize every accessible Google property to its greatest capacity.
For example, we use Google Shortened URLs to drive keyword relevancy to your social and citation URLs from each property. We use bare URLs, Google Short Links, and selected term anchors to strongly interlink from and to each property inside the Google Drive Stack.
Google Drive Stacking Process
Google Images
Google Doc
Google Forms
YouTube Video
Google MyMap
Google Drawing
Google Slides
Google Sheets
Google Sites
GMB Map
GMB Site Embed
Google Calendar
Will Domain Authority Stacks Put Me in Trouble?
Today, no, but let's be honest, Google may take a problem with it all in a few years, we really don't know.
That being said, Google Sites was designed to integrate the properties in your Google Drive and serve as a center for your business with Documents, Slides, and other tools. They want you to take advantage of it.
And it's realistic to anticipate that any excellent firm would have a hub, such as a public Google Drive, where employees can share information, modify material, build sales tactics, and so on.
In the end, this is similar to any other method of promoting your website; as long as you don't misuse it, you'll be good.
Our local authority stacks are a tactic that we utilize to successfully power up Google My Business listings; they are pure link and relevance funnels that may rapidly rocket a business up the local SERPs.
This service is a done-for-you option for exploiting Google's strength and authority within its own properties.
We establish strong topical and keyword relevance, large volumes of backlinks, and even rank Google properties in search engines for certain keywords. Links and keywords are checked by 12 Google properties to ensure their safety.
Optimize Google Maps
If you have a GMB-related map, we use it; otherwise, we create a custom map for your website and use Google Maps for link development.
Optimize Google Docs
We generate a document piece that is primarily dependent on the information on your website; this is not duplicate material; rather, it provides topical resonance with your site.
Optimize Google Slides
Slides are developed, again using material from your site; we design the slides in such a manner that they not only develop links but also allow you to show them off to others.
Optimize Google Site
This is where everything is connected and the true power of the stack is found. We've ranked these sites for launching or just supplied an additional property for branding.
If you are a local business owner and want to rank, traffic, new leads on google. You should use your Google Authority stacking service for your website.
Before ordering the Google Authority Stacking service you should buy our Social Signals, Local Citation service, and Web2.0 Building first. So that we can link your social links, citations, and web2.0 links into google stacking to give your benefits of all links.
What I Need From You
5 Images
Website link
GMB site link
Gmail (where we shared all authority stacks)
Money Site URL
Main Keywords (maximum 10 keywords)
We charge on the basis of how many keywords we are going to target, a Minimum of 7, and a maximum of 10 keywords per google authority stack. For example, 7 keywords 350 dollars but above 7 keywords we charge 500 Dollars.
Because we will create different google authority stacking for different keywords. and we will link all google authority stacks to each other to send all link juice to each keyword Google stack.
This is as powerful as Domain Authority Stacking can get!
Google Entity Stacking
✓ 100% Manual WHITEHAT Link Building
✓ Takes 7-8 hours to do by hand
✓ Google LOVES THIS – Because it is using its own entity!
Phase 1: Collect data
✓ Check Social Signal
✓ Check Local Citation, Web2.0 (optional)
Phase 2: Google Entity Optimization
✓ Create a Google Public Folder to Initiate Google Entity Stacking
✓ Create a 500-700 word content for each Keyword
✓ Create you a Public Google Doc with DAS + Backlink
✓ Create Your Google Site
✓ Link all Google Stack Properties to each other Webpage of Google Site.
Phase 3: Boost Me Now w/ Web 2.0 Entity Stacking
✓ Domain Authority Stacking – Silo everything on the Google Site
✓ 12 Google Property Boosting: Doc, Spreadsheet, Slideshow, etc.
We Will Deliver This Order in Just 10 Days
Check out our Other Local SEO Services